Notification
RSIS Training Webinar 2022
Date: 14.01.2022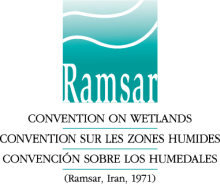 How to make best use of the
Ramsar Sites Information Service
Dear Ramsar National Focal Points and RIS-Compilers
We aim to facilitate the use of the online platform 'Ramsar Sites Information Service (RSIS)' and your tasks to upload and update Ramsar Site-related data in the 'Ramsar Information Sheet (RIS)'. To this end, we propose three levels of hands-on training, according to your personal needs:
1. Introductory-level Webinar
We invite you to join a one-hour training webinar on the RSIS for Ramsar National Focal Points (NFPs) and registered Ramsar Site Compilers (RCs). The webinar is intended to help you designate and update Ramsar Site information by showing the different aspects of the system in action. After a short presentation of the RSIS and an overview of its public part, the presentation will guide you through the back end of the system by broadcasting live the view of a user working with the system. The following points will be covered:
How to create a new Ramsar Site or launch an update.

Explanation of the different parts and functionalities of your dashboard.

How to navigate through the RIS online form.

Details about the site location and GIS.

How to complete data for criteria and their justification.

How to submit an RIS to the Secretariat and respond to comments.

How to use the RIS offline form.
During the webinar you will be able to ask questions. They will be answered and discussed during the latter part of the session and followed up by email where needed.
Registration
Register to the webinar of your choice at https://contacts.ramsar.org/webinars
After registering, you will receive a confirmation e-mail containing information how to join the webinar. All registrants will receive afterwards a link to the recording of the webinar – so please register even if you cannot attend the live event.
| | |
| --- | --- |
| Date / Time, UTC+1 (Swiss time) | Language |
| 24 January / 14h-15h (pm) | French |
| 24 January / 16h-17h (pm) | English |
| 28 January / 10h-11h (am) | English |
| 28 January / 16h-17h (pm) | Spanish |
2. Specific Web-based Tutorials
If you feel generally confident with the RSIS, you may still wish to read more detailed instructions available on the Convention website:
Or you may want to watch any of the following 3-minutes tutorial videos:
Part 1: Create or update a Ramsar Site
a. How to login in to the application
Part 2: Your dashboard
a. Introduction to the dashboard (order, columns, etc.)
Part 3: Online form navigation
a. Introduction to the navigation (menu, arrows, icons etc.)
b. How to access and use the help
Part 4: Site location and GIS
a. Preparation of a ZIP file including the GIS data
b. How to draw/edit site boundaries in the widget
Part 5: Criteria and justification
a. How to fill criteria and their justification
b. How to deal with the warning messages
3. Personal Advice
In case all the above is already familiar to you, but you have specific questions, don't hesitate to contact one of our regional teams at the Secretariat. We will take great pleasure to provide you with personal advice over the phone, Skype, via e-mail or with a visual online demonstration. Just contact one of us with your specific issue:
---
You receive this invitation because you are either registered as the National Focal Point for a Contracting Party or as a compiler of Ramsar Site Information Sheets.
Secretariat of the Ramsar Convention on Wetlands
28 rue Mauverney, CH-1196 Gland, Switzerland
Tel. +41 22 999 0365; fax +41 22 999 0169