Notification
Convention on Wetlands 2022 Year End Roundup
Date: 13.01.2023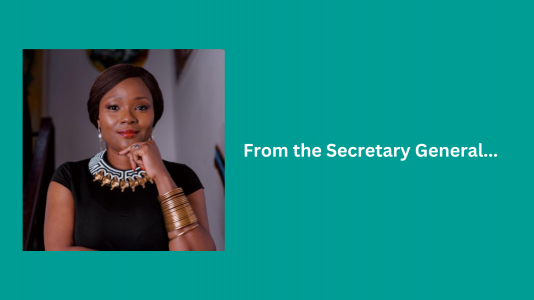 Dear colleagues,
I hope this message finds you and your loved ones well as we embark on another year of action for wetlands.
Already three months have passed since I assumed my new role as Secretary General of the Convention on Wetlands, and what a wonderful few months it has been acclimatizing to this new position, with a new team in a familiar setting, having worked at the Secretariat as a Junior Professional back in 1998.
In the post-pandemic world, we slowly but surely returned to near normal which allowed us to meet at COP14 after an enforced delay. I would like to say a huge thank you to all our Contracting Parties and Partners for your ongoing support and commitment to the Convention. This meeting late last year, with the many decisions collectively taken, filled me with plenty of hope, a lot of joy and a real sense of belief as to the possibilities ahead of us at the beginning of a new triennium for the Convention having just concluded COP14. The Convention's wider importance to climate change and nature was reinforced by our presence and participation during COP27 and COP15 respectively.
The challenge ahead of us is to address the triple planetary crises of climate change, pollution and biodiversity loss we are currently witnessing, while pushing for an increase in healthy and resilient wetland ecosystems. It's imperative we scale up and find innovative solutions to bolster the health of the planet, and for this to happen I encourage stronger collaboration! Ensuring the active participation of young people of the current and next generation will strengthen, enhance and substantiate the work we are undertaking to sizeable effect. Invest in them.
I was recently in Kigali, acknowledged as a Ramsar Wetland City at COP14, and I was enthused by the impact this accreditation has had on government funding and action to further restore and conserve an additional four wetland sites in the city. I wish to thank the Rwandan Government for their time and investment in this initiative and hope this may act as an inspiration to other cities and governments in Africa and beyond.
As we make steps into 2023, a challenging year beckons though a challenge within which we are all braced to take in our collective strides. World Wetlands Day, now an official UN Day, is just three weeks away with the campaign already very much in full swing as excitement builds up towards this momentous day.
I wish you all a happy and healthy start to the year, and I look forward thoroughly and with bristling anticipation to working with you this coming year - for wetlands, people and nature.
Sincerely,
Dr. Musonda Mumba
Secretary General, Convention on Wetlands
COP14: Wetlands Action for People and Nature
Contracting Parties and observers to the Convention on Wetlands met in Wuhan, China and Geneva, Switzerland from 5 to 13 November for the 14th meeting of the Conference of the Contracting Parties.
COP14 convened 146 Contracting Parties and 55 observer organizations, and the Parties concluded the conference by adopting 21 Resolutions.
Highlights included Resolutions to enhance wetland conservation for climate action, sustainable development, and to increase collaboration with other multilateral environmental agreements.
World Wetlands Day 2023
On 30 August 2021, the UN General Assembly adopted Resolution 75/317 which officially established 2 February, World Wetlands Day, as an international day observed by the United Nations. The theme for the 2023 campaign is Wetland Restoration.
World Wetlands Day is open to participation throughout society - from international organizations, governments, wetland practitioners, to children, youth, media, community groups, decision-makers, to all individuals – as these ecosystems are important to all of us.
Wuhan Declaration to conserve, restore and ensure wise use of wetlands
During the High-Level Ministerial Segment of COP14 on 6 November 2022, ministers and ambassadors of Contracting Parties adopted the Wuhan Declaration – a statement of political will reaffirming the principles of the Convention on Wetlands to conserve, restore and ensure wise use of wetlands.
The Declaration includes key themes that shows Parties' resolve to mobilize resources and political will, and strengthen of legislation to halt and reverse wetland loss globally.
A call to connect with young people
With youth leading momentum and actions on environmental action this year, COP14 was no exception, with youth delegates from around the world engaging in processes to strengthen wetland conservation.
The Parties adopted a Resolution to strengthen participation of young people and under-represented groups in the Convention. Submitted by Australia and Costa Rica, the Resolution commends the work of Youth Engaged in Wetlands which connects global youth around wetland conservation.
Participation of the Convention on Wetlands at COP27 on Climate Change
The UN Climate Change Conference COP27 took place in Sharm El Sheikh, Egypt, from 6 November until 20 November 2022. The Sharm el-Sheikh Implementation Plan emphasizes the importance of protecting, conserving and restoring ecosystems to achieve the Paris Agreement temperature goal as well as for adaptation, and urges Parties to further increase adaptation efforts.
The Secretariat supported organization of three official side events:
Launch of the Global Peatland Assessment: click here
Enhancing climate action through peatlands, focusing on inclusion of peatland protection and restoration actions in Nationally Determined Contributions and other climate strategies and plans.
Partnerships to accelerate action to protect blue carbon ecosystems for mitigation and adaptation, focusing on inclusion of blue carbon ecosystem actions within national climate strategies.
Secretariat staff also participated in a number of other events, including as a panellist in the Blue Carbon Implementation Lab, forming part of Ocean Action Day on 16 November organized by the Marrakech Partnership and UN Climate Change High-level Champions.
COP15 of the Convention on Biological Diversity: A new blueprint for nature
The Secretariat engaged in the fifth meeting of the Open-ended Working Group on the post-2020 Global Biodiversity Framework, in Montreal from 3 to 5 December 2022. The Framework aims to incorporate the mandates, indicators and tools of the Convention on Wetlands and other biodiversity-related Conventions.
Through COP15 the Convention contributed to the discussions on the agenda items of the Conference in particular on the post-2020 Global Biodiversity Framework, the high-level ministerial segment from 15 to 17 December and special events organized by UNEP, the United Nations Environmental Management Group and the Biodiversity Liaison Group of the biodiversity-related conventions.
Contracting Parties are reminded that the COP14 Resolution on enhancing the Convention's visibility and synergies with other multilateral environmental agreements, and the Standing Committee through Decision SC57-26, encourage Contracting Parties, through their Convention National Focal Points, to liaise and engage with their CBD counterparts and to seek to ensure the adequate recognition of wetlands in the goals, targets and indicators of the post-2020 Global Biodiversity Framework.
25 new cities awarded Wetland City Accreditation
During the 59th meeting of the Convention's Standing Committee on 26 May 2022, the Co-Chairs of the Independent Advisory Committee on Wetland City Accreditation announced that 25 applicant cities had been accepted in recognition of their exceptional efforts to safeguard urban wetlands for people and nature.

New Wetlands of
International Importance
Sudan adds its fourth Wetland of International Importance
Sudan has designated its fourth "Ramsar Site": Khor Abu Habil Inner Delta (Site no.2485) is an inland wetland with an area of almost 950,000 hectares, located 400 kilometres south-west of Khartoum.
India has named an additional 26 Wetlands of International Importance
India has designated 26 new Wetlands of International Importance, taking its total number to 75. These "Ramsar Sites" are distributed across the country, with 12 in Tamil Nadu, four in Odisha, four in Madhya Pradesh, two in Jammu and Kashmir, and one each in Maharastra, Kerala, Karnataka and Goa.
Mexico has designated two new Wetlands of International Importance
Mexico designates "Reserva Estatal Ciénagas y Manglares de la Costa Norte de Yucatán" and "Lago de Texcoco". This "Ramsar Site" is an important biological corridor in which three mangrove species.
Colombia has named its tenth Wetland of International Importance
Colombia has named Complejo Cenagoso de Ayapel as it tenth Wetland of International Importance. This "Ramsar Site" (no.2499 on the Ramsar List) covers over 54,000 hectares and features a range of ecosystems such as streams, rivers, swamps, wetlands and terrestrial biotopes.
The Dominican Republic adds two Wetland of International Importance
The new "Ramsar Sites", "Humedales de Montecristi y la Línea Noroeste" and "Refugio de Vida Silvestre Laguna Redonda y Limón" add 90,076 hectares to the country's total designated area.
Ivan Iga
Ivan joined the Secretariat of the Convention in August 2022 as Communications Specialist.
Poppy Brace
Poppy joined the Secretariat of the Convention in September 2022 as Administrative Assistant.
Souad Hesse
Souad joined the Secretariat of the Convention in September 2022 as Executive Assistant to the Secretary General.
Alia El Ashram
Alia joined the Secretariat of the Convention in September 2022 as Administrative & Logistics Assistant.
Kristela Toskaj
Kristela joined the Secretariat of the Convention in September 2022 as Junior Professional – Technical Support Europe.
Nischal Devkota
Nischal joined the Secretariat of the Convention in October 2022 as Junior Professional – Technical Support Asia/Oceania