Notification
Diplomatic Note 2023/4 The 62nd meeting of the Standing Committee of the Convention on Wetlands, 5-8 September 2023
Date: 11.05.2023

CONVENTION SUR LES ZONES HUMIDES
CONVENCIÓN SOBRE LOS HUMEDALES
Diplomatic Note 2023/5
The 62nd meeting of the Standing Committee of the Convention on Wetlands
5-8 September 2023
The Secretariat of the Convention on Wetlands presents its compliments to the Permanent Mission, and has the honour to inform it that the plenary sessions of the 62nd meeting of the Standing Committee (SC62) of the Convention will take place from Tuesday 5 to Friday 8 September 2023, at the Secretariat headquarters in Gland, Switzerland.
Simultaneous interpretation in the three official languages of the Convention will be provided for the plenary sessions of the meeting.
In accordance with Rule 6 of the Rules of Procedure for meetings of the Conference of the Parties, any State not a Contracting Party to the Convention may be represented by observers who, upon the invitation of the Chair, may participate without the right to vote in the proceedings unless at least one third of the Contracting Parties present at the meeting object.
The Secretariat requests that nominated observers representing States not party to the Convention and seeking observer status at the meeting complete the registration process by 14 August 2023. The online registration system is accessible at: https://contacts.ramsar.org/register-sc62.
The Secretariat of the Convention on Wetlands respectfully avails itself of this opportunity to renew to the Permanent Mission the assurance of its highest consideration.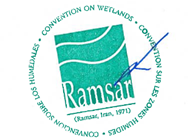 Secretariat of the Ramsar Convention on Wetlands
28 rue Mauverney, CH-1196 Gland, Switzerland
Tel. +41 22 999 0365; fax +41 22 999 0169
Attachments