Notification
RSIS Training Webinar 2019
Date: 11.12.2018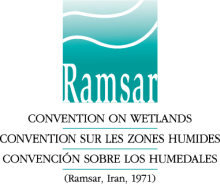 Ramsar Sites Information Service
Training webinar for National Focal Points and RIS compilers
Join us for a 1 hour Webinar
The Ramsar Convention Secretariat invites you to join a training webinar on the Ramsar Sites Information Service (RSIS) for Ramsar National Focal Points and registered Ramsar Site compilers. The webinar is intended to help you designate and update Ramsar Sites by showing the different aspects of the system in action.
Programme
After a short presentation of the RSIS and an overview of the public part, the presentation will guide you through the back end of the system by broadcasting live the view of a user working with the system. The following points will be covered:
How to create a new Ramsar Site or launch an update

Explanation of the different parts and functionalities of your dashboard

How to navigate through the RIS online form

Details about the site location and GIS

How to complete data for criteria and their justification

How to submit an RIS to the Secretariat and respond to comments

How to use the RIS offline form
During the webinar you will be able to ask questions; some of these will be answered at the end of the session and the rest will be followed up by email.
Registration
Click on the registration link above for the Webinar in the language of your choice. After registering, you will receive a confirmation email containing information about joining the webinar. All registrants will receive a link to the recording – so please register even if you cannot attend the live event.
Other resources
Instructions to help Contracting Parties designate a new Wetland of International importance, update the information on an existing Ramsar Site and check the status of an ongoing designation:
You receive this invitation because you are either registered as the National Focal Point for a Ramsar contracting party or as a Ramsar Site compiler
In line with Resolution XII.6 paragraph 12 and 13
Secretariat of the Ramsar Convention on Wetlands
28 rue Mauverney, CH-1196 Gland, Switzerland
Tel. +41 22 999 0365; fax +41 22 999 0169